Featured Employer Member | Bober Markey Fedorovich
Founded in 1959, 
Bober Markey Fedorovich
 is a Top 20 CPA firm in Northeast Ohio serving greater Akron, Cleveland, and its surrounding regions. Their clients span a variety of industries, many with multi-state and global operations. They specialize in accounting, audit, tax, litigation support, valuation and transaction advisory services, with focus on privately held businesses, private equity groups and SEC companies. They have just over 100 employees and 60 percent of their full-time staff are young professionals.
BMF considers their YPs the future leaders of their firm (and the majority!). In Public Accounting, and especially at BMF, part of the "career path" development requires constant succession planning. Rather than relying on external lateral hires, they prefer to grow and hire from within. They believe that investing in their YPs now will result in strong leadership within their firm, and in the community. BMF strongly encourages their YPs to be involved in the community, not only to promote the BMF brand, but also as a way for them to grow professionally and individually. This involvement helps YPs to develop a sense of what is important to them and how to tie it back into the community.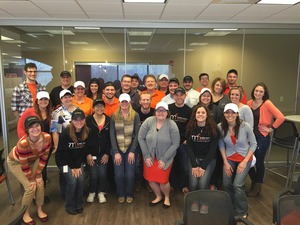 BMF appreciates the Millennial generation because they are are considerably more engaged with digital technology, which makes them a catalyst for enhancing processes and creating new efficient methods within their systems. They are also extremely flexible and not afraid of change, which is critical as they continue to grow and adapt to the ever-changing trends and regulations of the industry. Millennials are the largest of all the generations, and like the BMF YPs, are the future of the firm. BMF views Millennials as tech-savvy, diverse, connected and driven to make a difference. The millennials at BMF have had a positive impact on their business development, marketing efforts, community involvement and workplace morale.
When people think of accounting firms though, the word 'fun' doesn't typically come to mind. At BMF, they like to have fun, particularly during busy season! A few of the things they've done in 2016 are firm-sponsored meals, a Harvest for Hunger campaign, the "Polar Bear Plunge," Themed Fridays, a Tax Buddy Program (similar to "Secret Santa'"), Employee Appreciation Day, a Ballpark Lunch for the Cleveland Indians Home Opener, in-office Happy Hour Thursdays, and an End of Busy Season Gift. Additionally, the BMF sponsored co-ed softball league's first game was April 25!
To retain their young professionals, Bober Markey Fedoorovich offers "BMF University," a committee dedicated to providing relevant and engaging continuing education opportunities. For CPAs, it's especially important that they receive an adequate amount of CPE credits, and BMF University makes that possible by offering in-house training. In addition, BMF offers a tuition reimbursement program.
Mentoring is another important factor for YPs, as nobody likes to be "thrown to the wolves." At BMF, new associates are assigned a "PAL" for the first year, to answer day-to-day questions and to help get acclimated to the culture. Additionally, all associates are assigned a Manager Liaison.
As a firm that is dedicated to serving their clients and and community, they've adopted a very forward-moving culture, always striving to deliver solutions. This offers their associates new challenges, new opportunities and most importantly, flexibility.
BMF also has an e3 (employee enrichment and engagement) committee, which is dedicated to promoting fun and office camaraderie! Its mission is to enrich the experiences of BMF employees, helping YPs to achieve their highest potential, by fostering a positive and engaging environment. Through the e3 committee, they're able to show their YPs that they're appreciated and valued. BMF has also strategically aligned itself with local organizations to ensure that their young professionals get the exposure and involvement necessary for their professional growth. Some of these organizations include: Akron YPN, Torchbearers, Leadership Akron, the Cleveland 20/30 Club, BVU, and most recently, Engage! Cleveland.